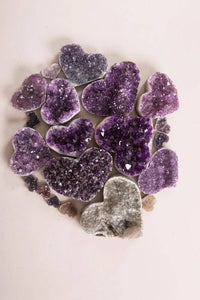 Indulge in the serene and soothing vibrations of Amethyst, the crystal renowned for its association with the Crown and Third Eye Chakras. Our carefully selected Amethyst Druzy Heart offers a multitude of benefits for your mind and soul.
Experience a profound sense of calm and tranquility as Amethyst dissipates anxiety, eases aggression, and promotes restful sleep. This powerful healing crystal acts as a gentle guide, opening the pathway to your Third Eye and enhancing your intuitive abilities. It allows the fusion of spiritual wisdom with rational thought, facilitating a balanced perspective on life's challenges.
One of the remarkable qualities of Amethyst is its ability to create a protective shield against negative energies and psychic attacks. Through its transformative power, it transmutes these negative influences into positive vibes. Feel the energetic shift as Amethyst clears away obstacles, paving the way for inner peace and harmonious living.
Amethyst's vibrant and captivating tones make it an ideal choice for creative expression. Whether you're an artist seeking inspiration or someone looking to add beauty to your space, this Amethyst Druzy Heart brings a touch of elegance and mystery.
Traditionally associated with St. Valentine, Amethyst is often given as a token of love and loyalty. Embrace the symbolic meaning behind this crystal as you share it with a loved one or keep it close to your heart as a reminder of your own inner strength and devotion.
Please note that each Amethyst Druzy Heart varies in size, with an average measurement of 1-2". Rest assured that our listing guarantees one exquisite Amethyst Druzy Heart that is sure to captivate and inspire.
Note: Crystal properties are for educational purposes only and should not replace professional medical advice.