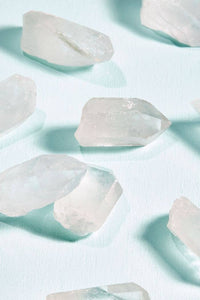 Experience the extraordinary power of Clear Quartz, the most versatile, multipurpose, and powerful healing stone available. Its unique helical spiral crystalline form makes it a master healer that can be used for any and all conditions.
Clear Quartz stimulates the immune system, reinstates bodily balance, and restores and amplifies energy systems. It is a true powerhouse of healing, catering to various physical, emotional, and spiritual needs.
One of the remarkable qualities of Clear Quartz is its ability to hold and transmit energy or intent. Once programmed, it continues to broadcast that energy throughout the world and into the etheric realms. This accelerates the fulfillment of prayers, intensifies healing or spiritual growth, and enables the crystal to hold a pattern of energy long enough and strongly enough for the manifestation of a goal.
The same properties of energy amplification, programmability, and memory make Clear Quartz the most versatile and multi-dimensional stone in the mineral kingdom. It can be used for healing, meditation, expansioof consciousness, communication with guides, past-life recall, attracting love or prosperity, and practically any purpose you can imagine.
Clear Quartz is also excellent for amplifying the energies of other stones or enhancing groups of stones, making it ideal for crystal gridding. It is safe and non-toxic, allowing you to energize your bath water or create an elixir to drink.
Each order includes one Clear Quartz crystal, with an approximate size of 1.5" to 3". Please note that natural gemstones are made by nature, so sizes are approximate, and colors may vary. As always, these statements have not been evaluated by the Food and Drug Administration, and Clear Quartz is not intended to diagnose, treat, cure, or prevent any disease.