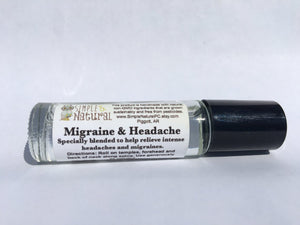 Migraine and Headache Relief Essential Oil Blend - the ultimate solution for easing the discomfort of migraines and intense headaches. Crafted with precision using a carefully selected blend of natural essential oils, this formula is specifically designed to alleviate pain and promote relaxation, providing you with the relief you've been searching for.
Our mess-free roller tube allows for effortless and convenient application. Simply roll generously onto the back of your neck, along the spine, and temples for targeted relief. With each use, you'll regain control over your day as the powerful blend works its magic.
The ingredients in this potent blend have been chosen for their headache-relieving and relaxing properties. Renowned essential oils such as Geranium, Peppermint, Lavender, Wintergreen, Rosemary, Lemon, Frankincense, and Chamomile work together to combat even the strongest headaches and migraines. Blended with fractionated coconut oil, a gentle carrier oil, to ensure safety and efficacy, this roll-on is a natural and effective remedy that you can trust.
Handcrafted with care and confidence, our Migraine and Headache Relief Essential Oil Blend offers you peace of mind knowing that you're using a natural solution. Make headache relief a part of your daily routine and reclaim control over your day.
Please keep in mind that due to the powerful nature of this blend, it is not recommended for children under the age of 12.
Discover the natural power of essential oils and reclaim your life from debilitating headaches. Try our Migraine and Headache Relief Essential Oil Blend today - experience the soothing relief you deserve.
This listing is for 1 roller tube.
Disclaimer: For educational purposes only. This information has not been evaluated by the Food and Drug Administration. This information is not intended to diagnose, treat, cure, or prevent any disease.