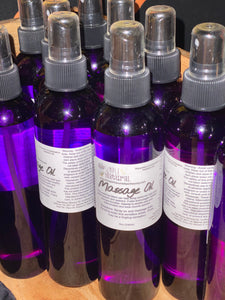 This soothing blend can help bring welcome relief and ease tension and spasms. It also encourages healthy immune function. helping to soothe pain and inflammation and ease muscle spasms.
Mineral Oil, Sunflower Oil, Safflower Oil, MCT oil, Sesame Seed Oil, Jojoba Seed Oil, Olive Oil, Vitamin E, Vitamin A.
Directions: Spray on and massage area. Avoiding eyes and sensitive areas. There may be a tingling sensation.
*Disclaimer: For educational purposes only This information has not been evaluated by the Food and Drug Administration. This information is not intended to diagnose, treat, cure, or prevent any disease.