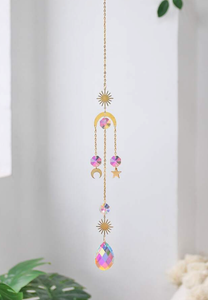 Embrace the magic of light with our exquisite selection of rainbow makers, adorned with dazzling crystals that refract sunlight and scatter it into a breathtaking display of vibrant hues. These captivating decorations will instantly infuse any room with an enchanting burst of color, creating prisms that dance across your walls and fill your space with joy, beauty, and harmony.
Whether you choose to hang them in your living room, bedroom, or even your car's rear view mirror, our rainbow makers are versatile adornments that can be enjoyed anywhere that has access to natural light. As the radiant sunrays filter through your window, the crystals work their magic, transforming the ordinary into a mesmerizing spectacle of shimmering rainbows.
With a delightful assortment of styles, ranging from elegant indoor designs to whimsical garden decorations, our rainbow makers offer a diverse range of options for every taste and preference. Each piece has been crafted to captivate and amaze, brightening even the dullest of spaces and bringing a touch of enchantment to your home.
Experience the transformative power of rainbow makers, as they create an atmosphere of wonder and serenity. Set the stage for calm and relaxation, or simply revel in the joyous beauty that fills your surroundings.
Bring the magic of rainbows into your life with our collection of exquisite and versatile rainbow makers. Let the colors dance and twinkle, and be reminded every day of the beauty and harmony that surrounds you.
(Note: Rainbow makers are solely decorative and do not produce actual rainbows. They are not intended to change or affect the natural laws of sunlight or create any therapeutic effects.)