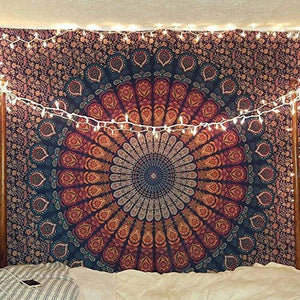 Exquisitely handcrafted by skilled local artisans in India, our Bohemian Psychedelic Peacock Mandala Tapestry is a true work of art that will enchant your living space.
Embrace the versatility of this twin size tapestry, ideal for transforming any setting - be it your living room, dorm, beach outing, picnic, porch, or even as an eye-catching tablecloth or sofa cover. It's also a perfect gift choice for any occasion.
Crafted with utmost care from eco-friendly cotton fabric, this tapestry not only ensures durability but also offers hassle-free cleaning and rapid drying, making it a practical and sustainable addition to your decor collection.
Indulge in the unparalleled quality of our 100% pure handmade cotton tapestries. Created using the traditional screen print ethnic method, each piece delivers a harmonious blend of vibrant colors and intricate designs, making it a truly remarkable art piece.
Please bear in mind that due to the handmade nature of these tapestries, slight variations in colors and designs may occur, further enhancing their individual character and authenticity.
Elevate your decor to new heights with the captivating beauty of our Bohemian Psychedelic Peacock Mandala Tapestry, a handcrafted masterpiece that adds an aura of inspiration to your indoor and outdoor spaces.