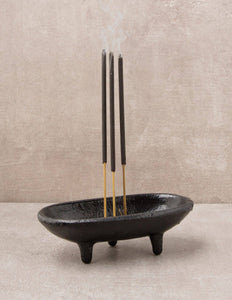 Cast iron incense burner, expertly shaped like a canoe, to infuse your space with rustic charm. This remarkable burner serves multiple purposes, allowing you to indulge in the benefits of incense sticks, purifying smudges, and serene cones.
The central metal section of the canoe-shaped burner can be effortlessly detached. Designed specifically to hold incense sticks that are approximately 1 inch long, simply insert your preferred incense stick into the center holder and relish in the tranquil aroma that permeates your surroundings.
When the desire arises for a different aromatic experience, remove the incense holder and witness the transformation into a purification vessel. This feature enables you to burn smudge sticks or cones, embracing and amplifying the purifying and cleansing qualities associated with smudging rituals.
Compact and measuring at 4 inches long, 2 inches wide, and 1.25 inches tall, our cast iron incense burner is perfectly suited for smaller spaces or for portability. Its robust and enduring construction guarantees resilient usage for years to come.
Kindly note that the incense sticks, smudge sticks, and cones are not included with the burner.
Embark on a journey of versatility and charm with our cast iron incense burner and purification vessel. Immerse any space in a tranquil and purified oasis of your own.