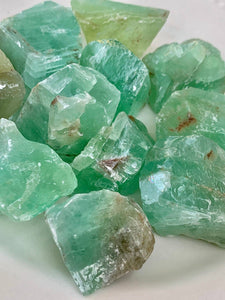 Enhance your abundance and prosperity with Green Calcite. This powerful stone is known to increase success, prosperity, business, and fertility in all aspects of life. Its manifestation properties allow it to create positive developments in various areas.
Not only does Green Calcite bring abundance, but it also enhances intuition and psychic abilities. It amplifies and cleanses energy, making it a remarkable tool for purifying negative energy from any space or the body itself.
Remove stagnant energy patterns and ignite personal motivation with the help of Calcite. It is also an exceptional choice for distance healing as it amplifies energy just like Quartz.
Discover the beauty of Green Calcite, found on every continent and considered one of the most abundant and varied crystals in the mineral kingdom. Each gemstone is unique, with sizes approximately measuring 1" - 1.5″ and colors varying.
Experience the power of Green Calcite, but remember that this product is not intended to diagnose, treat, cure, or prevent any disease, as these statements have not been evaluated by the Food and Drug Administration.