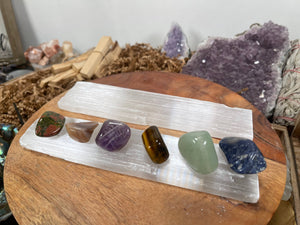 Elevate your crystal energy and create a harmonious space with the transformative power of our Selenite Charging Station. Unlike any other crystal, Selenite possesses the unique ability to instantly amplify the energy of all crystals placed upon it, creating a vibrant and positive environment. Say farewell to low vibrational energies that attract negativity and welcome in feelings of grief, fear, anger, and anxiety. Let Selenite raise your vibration and support an uplifting mental and physical state.
Experience the profound effects of Selenite on your crystal healing journey. After working with crystals during times of stress or emotional turmoil, it is crucial to release their accumulated energy. Selenite, acting as a powerful cleanser, effortlessly dispels all negative energy from your body and mind, freeing you from any lingering heaviness. Embrace deep peace, enhanced mental clarity, and the divine protection it brings from the angelic realm.
This listing includes one Selenite Charging Station, approximately 8 inches long, 1.75 inches wide, and 0.375-0.5 inches in height. Please note that as natural gemstones are crafted by nature, sizes are approximate, and colors may vary, ensuring each piece is beautifully unique.
Please be aware that these statements have not been evaluated by the Food and Drug Administration. Our Selenite Charging Station is not intended to diagnose, treat, cure, or prevent any disease. Allow its serene energy to enhance your crystal healing practices and create an uplifting atmosphere for utmost tranquility and harmony.