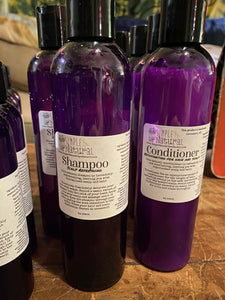 Repairing conditioner with hemp and aloe to nourish and repair. Contains sugar beet betaine for conditioning and is known to nourish hair follicles from within. 
Aloe vera is abundant in vitamins and minerals which are essential for healthy hair. It has a soothing, moisturizing, and protective effect on hair and skin, and rejuvenates hair, giving it elasticity and strength, and preventing breakage," says dermatologic surgeon Dr. Emer, MD.
Use an appropriate amount of conditioner for the length of hair, spreading evenly on the ends and working your way toward scalp. Avoid putting conditioner directly on scalp. Let sit for a bit and rinse throughly for normal or oily hair types, partially rinse out for dry hair types.
Ingredients: Organic conditioner base*, Sweet Orange essential oil, Rosemary essential oil, Juniper Berry essential oil, Hemp oil.
*Water, cetearyl alcohol derived from coconut, sugar beet betaine, coco-glucoside derived from coconut, shea butter, olive oil, sunflower seed oil, coconut oil, jojoba seed oil, aloe vera leaf juice, xanthomonas campestris a fed glucose (sugar) derived from corn, citric acid made by microbial fermentation, lactic acid, vitamin E, benzoic acid the simplest aromatic carboxylic acid, dehydroacetic acid an organic preservative known for its non-paraben and non-formaldehyde properties.