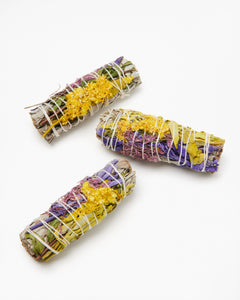 Sage Bundle with Colorful Satice & Mullien Flowers Sage
White Sage is the mother of all smudge bundles. It is renowned for its healing, benevolent energy. The scent calms the mind and purifies the body. Sage smoke is believed to have the power to carry prayers to the heavens, to remove spirits, and cleanse ritual space making it the ultimate demon detergent! The most-used types of sage have proven antimicrobial properties. Burning them to purify the air is a centuries-old tradition which we now realize can actually help keep infectious bacteria, viruses, and fungi at bay. Smudging, or burning Sage, is a more well-known ritual descending from Indigenous cultures. The Shamans would use dried Sage on their fires as a part of a ritual to connect with the Spirit World. The smoke from the Sage purifies and releases any negative energy or illness from the energy field of a person or space.
All of our Sage is sustainably grown on private land and very carefully collected to preserve these sacred plants.