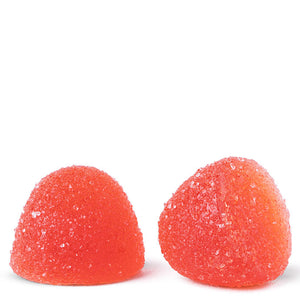 Elevate your mood and embrace the sunshine with the delightful flavor and natural goodness of Rays For Days Vitamin D Gummies!

Wave goodbye to artificial colors, flavors, and sweeteners; our watermelon-orange flavored gummies are crafted to perfection. Enjoy the irresistible taste while nourishing your body with the vital nutrient it craves – vitamin D.

Known as the "sunshine vitamin," vitamin D plays an essential role in maintaining healthy bones, boosting immune function, and regulating mood. Our gummies are designed to counteract the negative effects of sunlight deficiency and promote a positive outlook on life.

But there's more to our gummies than just vitamin D. We've enriched them with saffron, a time-honored spice renowned for its mood-enhancing properties. The combination of vitamin D and saffron creates a powerful, natural solution to enhance your overall well-being.

Beyond their mood-boosting benefits, our gummies offer a myriad of dietary advantages. They are suitable for vegetarian, gluten-free, dairy-free, and soy-free diets, catering to various dietary needs. Rest assured, our gummies are free from common allergens such as peanuts, tree nuts, eggs, high-fructose corn syrup, shellfish, fish, and crustaceans.

Each bottle contains a generous 30 servings, with one gummy recommended for daily consumption by adults. Remember to thoroughly chew each gummy to savor the delicious flavors.

Our ingredients:

- Vitamin D3 (as Cholecalciferol) - 25 mcg
- Saffron (bulb) Extract - 10 mg
- Organic Tapioca Syrup
- Organic Cane Sugar
- Water
- Glycerin
- Agar
- Citric Acid
- Lactic Acid
- Natural Flavors
- Organic Black Carrot Juice Concentrate (color)
- Locust Bean Gum
- Organic Sunflower Oil
- Organic Carnauba Wax

Experience the joy of sunshine in every bite with Rays For Days Vitamin D Gummies. Elevate your mood, support your immune system, and relish in a burst of natural flavor. Embrace the sunshine and uplift your spirits today!