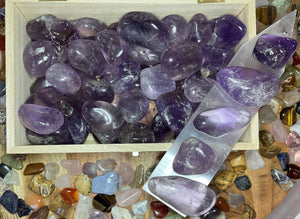 Amethyst is the most prized and sought-after variety of the quartz family. Although it can be found around the world, the majority of amethyst deposits come from Brazil and Uruguay. When manganese is present in quartz, it produces amethyst. The amount of iron present can contribute to the depth of purple.
Amethyst is known to be a really great stone for healing oneself of addiction, pain, and mental disorders. It is believed to inspire courage, calmness and contemplation. Its been used as far back as the ancient Greeks. The Greeks would wear it to bring out the highest, purest aspirations of humankind. ~ Chakra - Crown
This listing is for 1, tumbled Amethyst Crystal 1.5-2.5 inch. Natural gemstones are made by nature so sizes are approximate, and colors will vary. These statements have not been evaluated by the Food and Drug Administration. This product is not intended to diagnose, treat, cure, or prevent any disease.