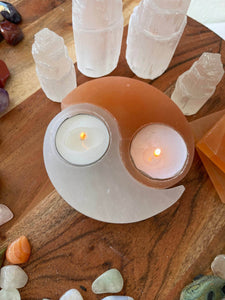 Selenite tea light yin yang candle holder that will not only add a peaceful glow to your sanctuary, bathroom, or living room - but also aids in spiritual healing + protection. Selenite is believed to be one of the most powerful healing crystals; known to transmute negative and stagnant energy into positive and peaceful vibrations while supporting spiritual awakening, expanding awareness of the self, and one's surroundings.
✦ Measures 4 inches long x 3.75 inches wide x 1.5 inches tall

✦ Holds standard size tea light candles
Selenite is one of the most powerful clearing stones in the world. An effective clearing agent of the auric field, Selenite removes all energy blockages in our body. Hold Selenite, or have it nearby, and visualize the crystal erasing all the negativity, fear, pain, stress, heartache, or worry.
Selenite is used for clearing and purifying fellow crystals, jewelry, and environments. This Crown Chakra crystal effectively cleanses and releases any negativity that may be found in our space, inviting peace and serenity, and deepening the sense of belonging.
Natural gemstones are made by nature so sizes are approximate, and colors will vary. These statements have not been evaluated by the Food and Drug Administration. This product is not intended to diagnose, treat, cure, or prevent any disease.